Patton Family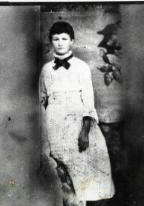 Helen Alexander Patton

This site has been researched
extensively.
The information on this site
is fact that we know and
information gathered from
others and the internet.
If you find any errors or
have any additional
information Please do not
hesitate to contact us.
Any help is greatly
appreciated.
We are in possession of
the original Marriage License
of Benjamin Franklin Patton
and
Augusta Johanna Lange.
We also have copies of pages
from a Bible that I understand
to have belonged to
James Madison Patton.
Following
You will find links to pages
from this site to images of
the above items and also
links to our other Web Sites.
Following are links to some
of our other Web Sites.
You can email me by
clicking the link below

Copyright information goes here.
Last revised: December 16, 2007.